SPOTLIGHT ON ENVIRONMENTAL HEALTH IN SWEDEN

The Swedish Association of Environmental Health Professionals - YMH


Sweden is a long Northern country, some of it situated north of the Arctic Circle. It's a part of Scandinavia as well as of the European Union. Common nature sources are forests, lakes and minerals.

You can read more about Sweden here: www.sweden.se

Environmental Code and Environmental Quality Objectives
In 1999, fifteen existing environmental laws were amalgamated into the Environmental Code. The purpose of the Environmental Code is to promote sustainable development that will enable present and future generations to live in a good and healthy environment.

Some of the European Union laws apply directly, without prior sanction by the Riksdag (Swedish Parliament), while others are implemented in existing Swedish legislation, such as the national Food Act. Implementation of environmental policies and laws is coordinated by some of the central environmental agencies, but all agencies are responsible for environmental impacts in their fields.

The Riksdag in 1999 also adopted 15 (now 16) Environmental Quality Objectives relating to the quality of Sweden's environment, and most of them are to be achieved by the year 2020.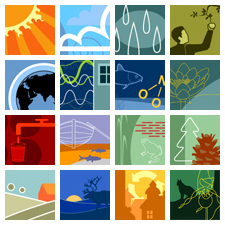 Illustration:"the 16 environmental goals"
Environmental Health in Sweden
There are 290 municipalities ranging in size from 0.9 million (our capital Stockholm) to a couple of thousand inhabitants. Municipalities and regions in Sweden are important welfare actors in Sweden: child care, schools, care of the elderly, social welfare, health and medical services, water and sewerage, waste treatment and spatial planning are but a few of their tasks. Swedish municipalities and regions have independent power of taxation, and almost all income tax goes directly to municipalities and regions. They employ almost one third of the Swedish labour force, and their services make up more than 20% of Swedish GDP.

Activities at local level are financed from taxation and to a large extent from fees, in accordance with the polluter pays-principle.

Our tasks
The municipalities through their regulatory authorities, the Environmental Health Committees, have broad responsibility for the enforcement of environmental regulations at local level. They are quite autonomous and can plan and prioritize their environmental health work. By translating national and regional environmental objectives into local aims and actions, they can make the objectives effective tools in local politics.

The municipal environmental health offices ensure compliance with legislation in the environmental area, particularly with regard to checking chemical products, pesticides and articles in the retail trade, enforcement of environmental laws in businesses and industrial sites, food safety, indoor climate, water supply, wastewater treatment, and waste management.

Apart from monitoring, permits and inspections, the municipalities´ supervisory role includes providing advice and information. The environmental health offices usually have advanced case registration systems, often integrated with GIS. The environmental health professionals are generally delegated the authority to make all routine decisions.

Cost efficient collaboration
In recent years neighbouring municipalities, especially the small ones, have started collaborating in municipal associations or local federations. This is an efficient and pragmatic way of utilizing competence and resources and keeping up the quality of work within the environmental health area. Several regional collaboration networks at staff level also provide guidelines, checklists, fact sheets and advice for their colleagues to join efforts in different environmental health projects or campaigns.

Links
Read more about Environmental Sweden
www.government.se/environment

You can also read more on the YMH website www.ymh.se/index.php/in-english/environmental-health-sweden

The National Environmental Objectives
www.miljomal.nu/sv/Environmental-Objectives-Portal

More information about food safety in Sweden
www.slv.se/en-gb

About the regulation of chemicals in Sweden
www.kemi.se/en/

The Swedish Environmental Protection Agency
www.swedishepa.se


Environmental Health Education
The required educational level for a Environmental Health Professional/Officer is a Bachelor of Science Programme in Environmental Health. These four year programmes are carried out in several universities around Sweden.

The Swedish Association of Environmental Health Professionals
The Swedish Association of Environmental Health Professionals (Yrkesföreningen Miljö och Hälsa, YMH) was founded in 1920. We have approximately 800 members. The association is run on an honorary basis.

We publish a periodical journal "Miljö & Hälsa" (Environment & Health) 8-10 times a year. One member of the council takes responsibility for each number along with the chairperson. The articles are either written by our Editor / Administrator – the only person who receives a salary from our organisation – or submitted by members or others.

You can read more about YMH here
www.ymh.se/index.php/in-english
Illustration: Tobias Flygar
Photo: Thomas Svärd
The Swedish Association of Environmental Health Professionals

March 2013