Links
At the left menu items you can find links to IFEH member organisations, associate member organisations and academic associate members.

Please be aware of that not all organisations have a website - but contact info - by email or postal address - can be found in the section on member organisations.

Besides of that we have made a collection of other links - which mainly addresses major governmental institutions in regard to environment and health.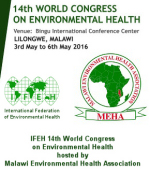 IFEH World Congress 2016

May 3-6 2016 MEHA, Malawi Environmental Health Association will host the 14th IFEH World Congress on Environmental Health.