About:
The IEHFF is an association of faculty engaged in the education of Environmental Health Practitioners in recognized institutions of higher education. The Forum is open to all Environmental Health faculty from any academic institution around the world who are interested in advancing and promoting the education of Environmental Health professional.
Purpose:
The purpose of the IEHFF is to provide a forum for the exchange of information among faculty engaged in the education of Environmental Health Practitioners. The Forum encourages discussion among academic programs and institutions about issue of Environmental Health curricula, teaching methods, students, field placements, job placements and other areas of common interest.
2012 Biennial Meeting:
The IEHFF met twice during the recent 12th World Congress on Environmental Health, health 23-26th of May. The first meeting on Tuesday 23 May consisted of an educational session as which faculty from around the world presented brief papers highlighting their work. The second meeting was a brief business meeting held on Saturday 26th May at which time the attendees discussed the Forum, its purpose, organization and need for more structure. One clear outcome was the desire to establish some sort of a communication network that could be used to further dialogue among members between meetings. Barbara Delaney (Dublin Institute of Technology, Ireland) and Chuck Treser (University of Washington, USA) were selected as co-chairs of the Forum. The notes from the meeting are available here.
2014 Biennial Meeting:
The next meeting of the IEHFF will be held in conjunction with the International Federation of Environmental Health (IFEH) 2014 meeting to be held in July in Las Vegas, Nevada, USA.
Discussion:
The Forum has established a Discussion Group on LinkedIn.
To join the discussion, please go to http://www.linkedin.com/ and look for the IEHFF group or send a request to: ctreser@u.washington.edu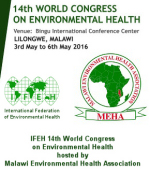 IFEH World Congress 2016

May 3-6 2016 MEHA, Malawi Environmental Health Association will host the 14th IFEH World Congress on Environmental Health.