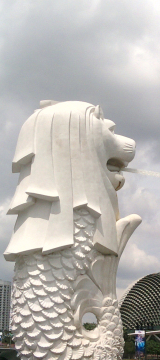 Singapore - Singapore Merlion Statue
Look up larger photo

List of all "Spotlights"

SPOTLIGHT ON ENVIRONMENTAL HEALTH IN SINGAPORE

Society of Environmental Health (Singapore)
Singapore
Singapore is a republic in Southeast Asia of about 710 sq. km, approximately one degree north of the equator. It consists of a main island, or a city, and a number of smaller islands. The weather in Singapore is tropical, with average temperatures of 23-31 degrees Celcius.

The standard of living is high in the city of Singapore. Spanking new shopping malls and towering skyscrapers trace the Singapore skyline, while people travel on clean streets and a modern public transport system.

The population of Singapore is about 5 million. The average life expectancy for residents at birth is about 81 years.

Major Industries in Singapore include electronics, chemicals, financial services, IT and professional services, oil drilling equipment, petroleum refining, processed food and beverages, ship repair, offshore platform construction, life sciences, etc.

Society of Environmental Health (Singapore)
The Society of Environmental Health (Singapore) was founded in 1977. Its original name was the Society of Public Health Inspectors. In keeping abreast with international trend, and to better reflect the role of its members, the Society's name was changed to the Society of Environmental Health Officers in 1996. In 1997, the Society decided to drop the word 'officers' from its name to open up its membership to reach a wider pool of professionals who are involved in environmental health work.

The Society was formed with the following objectives:
Today, the Society, which is officially registered with the Registry of Societies in Singapore, boasts a membership of more than 200. Most of the members currently work in the public sector, or have retired from the government service.

The Society is a non-profit and non-governmental organization and does not represent any professional body. It is a founding member of the International Federation of Environmental Health (IFEH).

In 1984, the Society published its first Journal and began making contact with its counterparts in Australia, New Zealand and Malaysia. It hosted its first joint seminar with the then Australian Institute of Health Surveyors (now known as the Australian Institute of Environmental Health). With the advent of the Internet era during which the knowledge on environmental health has become easily accessible, the Society has now stopped publishing the journals, and minimized its carbon footprint.

Over the years, the Society has conducted numerous training courses and seminars on various environmental health related topics, and contributed significantly towards upgrading of the standard of food and environmental hygiene in Singapore. The Society was authorized by the then Ministry of the Environment and subsequently by the National Environment Agency as the Basic Food Hygiene Course provider – a role, which the Society relinquished in year 2007. So far, the Society has trained thousands of food handlers and contributed tremendously towards improving and sustaining the state of food hygiene in Singapore. This was made possible primarily due to the efforts by the Society's ex-President, Mr. Koh Geok Beng and other dedicated members of the Society.

The Society has also organized and worked with partners to organize various seminars and training programmes in Singapore. These include: Advanced Food Hygiene Course; a seminar on Legionellosis and Indoor Air Quality; a seminar on Swimming Pools; and Professional Sharing Series organized by the Singapore Environment Institute on "Environmental Health Challenges in Liveable Cities: A Global Perspective".

To gain recognition in the international community, the Society has participated in many international and regional conferences/events, and given presentations to the global audience on topics such as smoking prohibition, vector-borne and food borne disease situation in Singapore, etc. Some of these events include: International Seminar on Environmental Health, Surabaya, Indonesia, 2008; 9th World Congress on Environmental Health, Dublin, Ireland, 2006; National Conference of the New Zealand Institute of Environmental Health, 2006; and various other World Congress conferences held in England, Scotland, Canada, Australia, Sweden, Norway and South Africa.

Members' benefit is at the core of the Society's functions, and hence the Society conducts outings for its members, which have been immensely popular.

Many of the Society's members possess a wealth of knowledge and expertise. Some of them are even the pioneers who had worked with passion and dedication to elevate the state of environmental health in Singapore to where it is today. Many of the excellent policies and practices were developed in their times with their field experience and knowledge.
Environmental Health in Singapore
Singapore has achieved a high standard of environmental health, and is well-known as a clean and green city.

The nation has adopted a pragmatic approach towards sustainable development and management of environmental health issues, by implementing programmes at a very early stage, in tandem with rapid economic growth and industrialization, to protect the environment. During the massive ten-year clean up of the Singapore River between 1977 to 1987, a multi-agency effort by the government transformed the once-polluted river into a clean and bustling waterway, which now boasts an iconic freshwater reservoir and lifestyle attraction in the city, viz. Marina Reservoir, with Singapore's business and financial district as its backdrop.

Today, the Ministry of the Environment and Water Resources, together with its statutory boards viz. National Environment Agency ("NEA") and PUB, has identified clean air, clean land, clean water and high standard of public health as key pillars of its policy objectives, among others such as climate change.

Clean air: Singapore has consistently maintained a high ambient air quality standard through setting stringent emission regulations, promotion of energy efficiency initiatives and the use of environmentally friendly energy sources such as natural gas. As a result, Singapore's ambient air quality compares favourably with major cities of the world.

Clean land: Both, hazardous substances and hazardous waste, in Singapore are well managed and controlled without any major spillage or illegal disposal.

Singaporeans enjoy one of the most efficient solid waste management systems in the world. Waste minimisation and recycling are key components of Singapore's integrated waste management system. The NEA licenses Public Waste Collectors (PWCs) and General Waste Collectors (GWCs) to collect solid waste in Singapore. Besides waste collection services, PWCs also provide recycling services. Most of the waste is either recycled or incinerated, while the remaining waste is landfilled. The resulting ash from incineration is subsequently disposed off at the Semakau Landfill, which is today renowned as the world's first-of-its-kind, offshore landfill co-functioning as a recreational destination for nature lovers.

Clean water: Trade effluent must be pre-treated to allowable discharge limits for discharge into a public sewer or watercourse in Singapore. An effective water pollution management strategy also exists that takes into consideration factors such as siting of industries.

In addition, in just four decades, Singapore has overcome water shortages despite its lack of natural water resources. Driven by a vision of what it takes to be sustainable in water, Singapore has been investing in water research, and technology and infrastructure development. Today, Singapore's national water agency, PUB, has built a robust, diversified and sustainable water supply from four different sources known as the Four National Taps – viz. water from local catchment areas, imported water, reclaimed water known as NEWater, and desalinated water. By integrating the system and maximising the efficiency of each of the four taps, Singapore has ensured a stable, sustainable water supply capable of catering to the country's continued growth.
Public health: Over the years, Singapore has achieved a high standard of environmental health through effective surveillance and control of vectors, improving public cleanliness, establishing a high standard of hygiene in food establishments, investment in R&D, and increasing community participation among stakeholders.

Food Hygiene: Stringent licensing measures, effective enforcement regime and training/education of the food handlers ensure that a high standard of food hygiene is maintained throughout all food and beverage establishments in Singapore, including the world famous hawker centres. The food establishments are graded based on housekeeping and cleanliness measures, control of pest infestation, food hygiene and personal hygiene of the food handlers. Overall, the local cases of food borne diseases remain low in Singapore.

Vector Control: Vector control in Singapore, particularly the control of mosquito vectors such as Aedes mosquito, poses a challenge, since Singapore is a global city lying in a region endemic to various tropical diseases such as dengue. Mosquitoes breed easily due to warm temperatures, abundant rainfall and high humidity throughout the year. However, the NEA has implemented a successful integrated mosquito control programme in Singapore, comprising pre-emptive surveillance and source reduction, risk assessment, cutting age research, and community education programmes. The NEA and Ministry of Health work closely in the surveillance of vector borne diseases such as dengue.

Smoking Ban: To protect Singaporeans from the harmful effects of second-hand smoke, the smoking ban was first introduced in October 1970 and then extended progressively to more public premises. In the past 3 years, the ban has also been extended to bus interchanges and shelters, public toilets, public swimming complexes, hawker centres, coffee shops and entertainment outlets.
Environmental health professionals
The environmental health professionals primarily work in government sector, e.g. for the NEA, or in the private sector for companies such those that offer pest control services, hygiene and cleaning related products, etc. Typical areas, in which environmental health professionals work, include vector control, food hygiene, etc. Epidemiological investigations and reporting of infectious diseases are primarily carried out by the officers at Ministry of Health. In the private sector, these functions are often bundled with occupational health and safety, and environmental related functions.
Members' contacts:
Society of Environmental Health (Singapore)
Dr Pranav S. Joshi: pranavsj@hotmail.com ; soceh.pj@gmail.com
Mr. John Gerizim: Secretary@soceh.org.sg
Mr. Ng Hung Joo: Treasurer@soceh.org.sg