SPOTLIGHT ON ENVIRONMENTAL HEALTH IN NEW ZEALAND

New Zealand Institute of Environmental Health (NZIEH)
Background
New Zealand is located near Australia in the South Pacific. We have a temperate maritime climate and are about the same size as the United Kingdom at 268,021 km2 or 103,483 sq miles in old money. Our population is just over 4 million with most located in the North Island.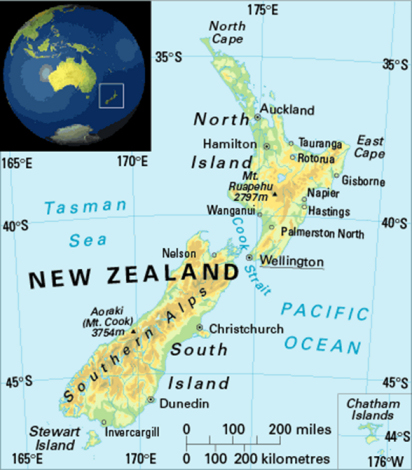 Environmental Health here is modelled on the British system but with our own local variation. The functions are split between the 67 Territorial Local Authorities and 12 Public Health Units, which are part of the District Health Boards.
There are also 11 Regional Councils who have regional responsibility for water and air quality in a portfolio that also includes civil defence and transport infrastructure.
There are around 275 Environmental Health Officers in Local Authorities and 112 Health Protection Officers in the Public Health Units. A small number of Environmental Health Officers can also be found in central Government, the Army, Air-force, Regional Councils and private industry. Despite there now being two providers of recognised Environmental Health qualifications there are still insufficient new graduates entering the profession. Many of the vacancies are filled by suitably qualified EHO's from the UK and South Africa.
Membership
Membership of the NZIEH has been fairly static, although this also represents the lack of growth in the profession with numbers remaining much the same for the last twenty years. However, although fairly stable in size, the professional responsibilities have grown and evolved. This has caused the inevitable challenges.
With members spread throughout the country finding it increasingly difficult to attend Centre meetings a free discussion forum was established some years ago through Yahoo Groups, called 'Health Protect' and this has been reasonably successful.
We have a National Conference every year in February or March – which is a nice time to visit New Zealand. The 2012 the Conference is in Palmerston North, straddling both months! Our Conferences are always interesting and stimulating and are rotated through various centres in New Zealand. This enables showcasing of local issues and encourages members to attend who might otherwise find difficulty in coming to a single fixed location if it was distant from their employer.
Issues and Events
Like many nations New Zealand is feeling the austerity drive with "more for less" being matched to a "Reduce Compliance Costs" dogma driving government and local government, where most Environmental Health professionals can be found.
New Zealand is now seeing the impacts of these same political sentiments that were strongly expressed during the late eighties and into the early nineties at a similar time of economic turmoil. For example we have a 'leaky homes' debacle. Remember Thatcherism and Reaganomics? New Zealand followed these philosophies with a will and one of the consequences is that we now have people living in rotting and damp houses less than 20 years old. This occurred because deregulation in New Zealand's building industry was combined with cost saving drives, the introduction of a plethora of novel methods and materials; and restructuring and reduction of the local government workforce. We also have people now struggling financially, living in de-regulated boarding and lodging houses; owned by landlords who can't, or won't, undertake necessary improvements.
On the plus side there is a significant change in the way the food industry will be regulated with a new Food Bill currently before Parliament. While the introduction of such a new and complex piece of law may be challenging for the Environmental Health profession, the long term gains could be significant.
The increasing popularity of local food markets is enabling many smaller businesses find their niche in the food chain. Under New Zealand's current, rather prescriptive, food safety laws Environmental Health Officers at local councils are hard-pushed to recognise innovations in food manufacturing and retail.
This new legislation will be taking a more risk-based approach to food safety. Rather than focusing on requirements for premises, businesses will need to recognise the food safety issues that are most likely to affect the food that they sell. Not a new concept, but one that New Zealand will introduce alongside an established permitting system.
To assist businesses, a number of practical 'tools' are being developed in conjunction with food business organisations. Environmental Health Officers now working with the Ministry of Agriculture and Forestry, formerly the New Zealand Food Safety Authority, who have experience of working for local councils are leading these developments.
In addition, they have encouraged and facilitated groups or 'clusters' of councils to work together in the food safety arena and organised training workshops to address particular issues. This is providing a better understanding for all concerned - the direction that government is taking and the issues that arise at a local level that could have an impact on delivering new laws. It is also helping to ensure that a more consistent approach to food safety is applied across the country.
New Zealand is also gearing-up to host the Rugby World Cup - the largest sporting event in 2011. An estimated 85,000 additional visitors will be visiting and this will provide a great opportunity for businesses to showcase specialities from the bountiful range of fresh foods available throughout the country. With two months of entertaining a scrum of rugby-hungry fans to come, this is an important part of ensuring that our guests remember their stay for all the right reasons.
The other big issue New Zealand has recently faced were the multiple earthquakes that struck Christchurch, our largest South Island city. The first occurred in the early hours of 4th September 2010 and was a 7.1 magnitude earthquake – despite causing significant damage it caused no fatalities. This was followed by numerous aftershocks and then a devastating lunchtime earthquake on 22nd February where 182 people died. The February 22nd quake measured magnitude 6.3 and many buildings already weakened and damaged by the September quake received further damage. Others undamaged in September were damaged in February. Christchurch and environs now has an estimated 100,000 homes damaged with over 10,000 beyond repair. Environmental Health professionals from around the country mobilised and travelled to Christchurch to assist during this time of extreme difficulty. Unfortunately the problems and tremors are on-going with Christchurch and environs suffering over 7000 significant tremors since the 4th September event.
The future
With expected increases in work demands for the Environmental Health workforce, and the challenges associated with downsizing or restructuring and yet still remaining 'fit for purpose' the future will be a challenge. Professionally though Environmental Health Officers in New Zealand are resilient and adaptable and will meet the new challenges head on. What we do need to do is to ensure on-going communication and support for the profession and provide a competency framework based on the IFEH model proposed at the International Congress in 2008; supported by a common induction programme for new professionals to help meet those challenges.
New Zealand Institute of Environmental Health (NZIEH)