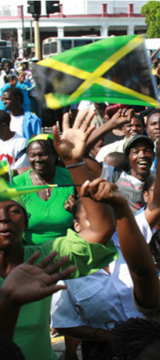 Proud Jamaican People
waving flag of Jamaica

Look up more pictures
from Jamaica

SPOTLIGHT ON ENVIRONMENTAL HEALTH IN JAMAICA

Jamaica Association of Public Health Inspectors
Profile on Jamaica
Geography and Government.
Jamaica is the largest island in the Commonwealth Caribbean islands, with an area of 10,999 square kilometers and is located between latitude 18 degrees North and longitude 77 degrees west.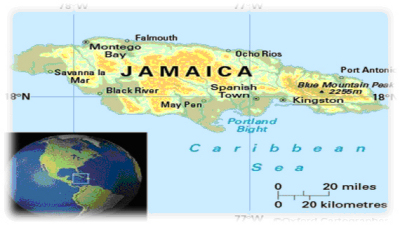 Location Map of Jamaica
The island is divided into fourteen parishes and there are two major urban centres: Montego Bay on the North West Coast and Kingston on the South East Coast. Kingston is home to one of the largest natural harbours in the world.

Jamaica was established as an independent state, within the Commonwealth of Nations since 1962. The country is governed by parliamentary democracy based on the Westminster- Whitehall model.
Some Natural Treasures of Jamaica
Endowed with natural assets, Jamaica has arable land, outstanding scenic beauty, high levels of biodiversity, white sand beaches and modest mineral resources. These provided for much of the early income growth generated from a vibrant tourist industry, sugar, bananas and significant bauxite mining. Jamaica is a renowned world leader on the tracks, beauty and in many respects. The most important assets are the country's warm and friendly people.

Demographic profile and implications for the health sector
The population for Jamaica for the year 2007 was 2,682,120, representing an increase of 0.8% over the previous year's figure of 2,660,647. Jamaica's average population growth rate was 0.5 %, with a birth rate of 17.0 births/1000 population. The death rate was 6.37 deaths/1000 populations. The working age population (15-64) is increasing and the dependent elderly age group (65+) continues to be the fastest growing segment of the population whilst the 0-14 age group declines. An expected increase in chronic non-communicable diseases associated with aging has implications for expanded health services to the elderly, as well as an opportunity to encourage the prevention of these diseases in the younger population. An increase in this age group also has implications for health financing for the older dependents.

There were 1,321,600 (or 49.3%) males and 1,360,500 (or 50.7%) females, accounting for a sex ratio of 97.1 males per 100 females (ESSJ, 2007). The 0-14 age group declined to 28.3% of the population in 2007 compared with 28.9% in 2006. This group is projected to continue declining beyond 2020. Over half (63.4%) the total population comprises the working age group (15-64). This age group will continue to increase, particularly the 30-59 age category. The elderly population accounted for 10.8% of the total population compared with approximately 10.7% in 2006. The dependent elderly population (65+) grew by 1.8% between 2006 and 2007. Projections indicate that further increases are expected for this age group up to 2050.

Socio-Economic Profile
Health is a determinant of Human Development, measured by the United Nations (UN) as the Human Development Index (HDI), comprising literacy, life expectancy, educational attainment and GDP per capita for countries worldwide. Jamaica is classified as having medium levels of human development, with a rank of 101st of 177 countries in the 2007/2008.

Human Development Index Report
The Human Poverty Index (HPI) measures deprivation in three basic dimensions such as a long and healthy life, knowledge and a decent standard of living. The HPI-1 value of 14.3 ranks Jamaica at 34 among 108 developing countries for which the index has been calculated. The health of Jamaicans has improved considerably during the 20th century.


Health System Profile

The Jamaican health System which comprises public, private and non-governmental organizations (NGO's) and institutions continued to pursue the goals of equity, access and quality in the delivery of services to improve health.

The public health system is comprised of the Ministry of Health and Environment, its agencies and departments, a network of 23 public hospitals, approximately 322 Primary Health Centres.

Description of Ministry of Health and RHA and Parish management structure and functions:
Under the public health sector reform of the 1990s, the National Health Service Act, 1997 was passed. This Act provided for the establishment of four Regional Health Authorities (RHAs) to administer the national health services and facilities. The Management structure within the Regions operates at three levels; Regional, Parish and Institutional. The Ministry of Health was re-oriented from that of a central care provider of health care services, to one of a steering/monitoring role. This assumes the capacity and legitimacy to undertake health sector governance as well as the essential
Health Status Indicators
The Human Development Index puts Jamaica above the average life expectancy of Developing countries, which stands at 65.0 years. Infant mortality rate is a good indicator of a country's health status, is estimated to be 19.9/1000 live births down from 24.5 in 2006
Epidemiological profile
The country is now faced with a double burden – the chronic diseases and communicable diseases - linked to lifestyles and/or environmental influences. This is referred to as our epidemiologic transition. Communicable diseases were a significant features of the epidemiological profile of the 60's and 70's, however chronic diseases became more of a concern in the 80s and 90s. The high prevalence of HIV/AIDS continues and there is an alert for the emergence of multidrug resistant TB. Zoonotic diseases such as Leptospirosis are re-emerging. Outbreaks of dengue and malaria, old diseases, have returned after 40 years, highlighting the need to strengthen public health management. Prevention and protection are therefore key actions that require investment in public health leadership, stewardship and management, the adequate provision of tools and health system development.
Millennium Development Goals
The country has made good progress in eight out of the 14 MDG targets for 2015. Jamaica has already achieved the targeted reduction in absolute poverty, malnutrition, hunger and universal primary enrolment and is on track for combating HIV/AIDS, halting and reversing the incidence of malaria and tuberculosis, access to reproductive health, and provision of safe drinking water and basic sanitation. Lagging in gender equality and environmental sustainability, it is far behind in child and maternal mortality targets. Of great concern is the significant slippage in the proportion of the urban population living in unacceptable living conditions.


Profile on the Jamaica Association of Public Health Inspectors (JAPHI)
Brief History
The Jamaica association of Public Health Inspectors (JAPHI) is the professional organization that represents Public Health Inspectors (PHI)/Environmental Health Officers in Jamaica. It was formed in 1946 with a few years after the first set of Sanitary Inspectors graduated from the then West India Training Station, (which subsequently became the West Indies School of Public Health (WISPH). Since 1991 JAPHI became the sole Bargaining Unit for government - employed PHIs.

Governance Structure
JAPHI has a Constitution and a well established governance structure. An Annual General Meeting (AGM) elects a thirteen (13) member Executive Council which runs the business of the Association between AGMs. The Council consists of a President and two (2) Vice Presidents, the Immediate Past President, Honorary Secretary, Treasurer and, the Public Relations Officer. The highest decision making authority is the AGM, which is held the last day of the annual conference and exhibition. The Collective Executive Council meeting is the second level of decision making authority.

Training and Education
Public Health Inspectors are trained at the University of Technology, Jamaica (UTech) and require a minimum of five (5) subjects in the Caribbean Examination Certificate (CXC) or General Certificate Examination (GCE) for matriculation. The programme is a four (4) years Bachelors Degree in Environmental Health. Formerly it was a three (3) years Diploma Programme offered by the West Indies School of Public, which was incorporated into the UTech in 2002. After training; in order to practice, graduates must register with the Council for the Professions Supplementary to Medicine (CPSM). A number of PHIs are holders of post-graduate degrees including masters degrees as well as doctorial degrees.

Scope and Practice
Public Health Inspectors practice whether as "Generalists" or "Specialists" in a very wide area of environmental health, namely:
Housing and Community Health

Food Safety

Water Quality Control

Waste Water management

Veterinary Public Health

Occupational Health & Safety

Vector Control

Port Health & Quarantine

Environmental and Infectious Diseases Epidemiology

Institutional Health

Building and Subdivision Control

Disaster Preparedness and Management
Membership and Profile
There are approximately three hundred and twenty five (325) members representing about 90% of the island's PHIs. The Ministry of Health (MOH) and the Regional Health Authorities (RHAs) are the primary employing bodies accounting for about 95% of our membership. The others are employed in academia, international agencies and private sector entities; especially the hospitality sector and food processing.

The following are the various categories of members of the association:
Registered Member

Honorary Members

Student Members

Life Members

Corporate members
Summary Roles/Functions
The advancement of the science and practice of environmental health in Jamaica

To ensure that individuals meet requirements for professional registration as mandated by the Council of Professions Supplementary to Medicine (CPSM)

To evaluate the core curriculum of professional training programs being offered to Public Health Inspectors/Environmental Health Officers

To Police the profession to ensure that the highest level of professional and ethical standards are upheld

To establish and maintain international links with environmental health associations/agencies so as to provide a medium for exchange of information and experience

To serve as the collective bargaining agent for P.H.I's in the public sector

To ensure that the employers of Public Health Inspectors/Environmental Health Officers adhere to sound Industrial Relations Practices

To defend members who are unfairly/unjustly treated by their employers

To promote a spirit of friendship, cooperation and networking among members
JAPHI Week
JAPHI observes a "JAPHI Week" annually and an Annual Educational Conference and Exhibition during the "JAPHI Week." This is celebrated during the last week of October. This week was officially declared by former Governor General Sir Howard Cooke in 2003.
The week is used to promote the Environmental Health Profession and the work of JAPHI. Presentations are done in schools/universities and libraries. Church services are held in observance of the week; locally, regionally and nationally. The conference is currently held over three days and provides opportunities for Continuous Professional Development training.
Jamaica Association of Public Health Inspectors