Sand dunes of Curonian Spit in Lithuania
(UNESCO World Heritage Site)



List of all "Spotlights"

SPOTLIGHT ON ENVIRONMENTAL HEALTH IN LITHUANIA

Lithuanian Union of Hygienists and Epidemiologists (LUHE)
Country Profile


Lithuania in Europe and distance from other capitals

Lithuania (Lithuanian: Lietuva), officially the Republic of Lithuania is a country in Northern Europe, the largest of the three Baltic states. It is situated along the shore of the Baltic Sea, whereby to the west lie Sweden and Denmark. It borders Latvia to the north, Belarus to the east and south, Poland to the south, and a Russian exclave (Kaliningrad Oblast) to the southwest. Lithuania has an estimated population of 3.2 million, and its capital and largest city is Vilnius. The Lithuanians are a Baltic people, and the official language, Lithuanian, is one of only two living languages (together with Latvian) in the Baltic branch of the Indo-European language family.


Historical highlights
The first people settled in the territory of Lithuania after the last glacial period in the 10th millennium BC.

The first written mention of Lithuania is found in a medieval German manuscript, the Annals of Quedlinburg, in an entry dated 1009 (Lithuania is the only Baltic country with thousand years of statehood tradition).

Initially inhabited by fragmented Baltic tribes, in the 1230s the Lithuanian lands were united by Mindaugas, who was crowned as King of Lithuania on 1253.

By the end of the 14th century, Lithuania was one of the largest countries in Europe and included present-day Belarus, Ukraine, and parts of Poland and Russia.

In 1410 at the Battle of Grunwald the armies of Lithuania and Poland achieved a great victory over the Teutonic Knights. It was one of the largest battles of medieval Europe.

But, at the end of the 15th century, Lithuania was forced to seek a closer alliance with Poland. The Polish–Lithuanian Commonwealth was created in 1569. The Commonwealth was partitioned in 1772, 1792, and 1795 by the Russian Empire, Prussia, and Habsburg Austria.

During World War I, the Council of Lithuania declared the independence of Lithuania on 16 February 1918, and the re-establishment of the Lithuanian State.

The Soviet Union returned Vilnius to Lithuania after the Soviet invasion of Eastern Poland in September 1939. In June 1940, the Soviet Union occupied and annexed Lithuania in accordance to the secret protocols of Molotov–Ribbentrop Pact. A year later the Soviet Union was attacked by Nazi Germany, leading to the Nazi occupation of Lithuania. After the retreat of the German armed forces, the Soviets re-established the annexation of Lithuania in 1944.

The advent of "perestroika" and "glasnost" in the late 1980s allowed the establishment of Sąjūdis, an anti-communist independence movement. After a landslide victory in elections to the Supreme Soviet, members of Sąjūdis proclaimed Lithuania's independence on 11 March 1990, becoming the first Soviet republic to do so. On 4 February 1991, Iceland became the first country to recognise Lithuanian independence.

After the Soviet August Coup, independent Lithuania received wide official recognition and joined the United Nations on 17 September 1991. The last Soviet troops left Lithuania on 31 August 1993 – even earlier than they departed from East Germany. Lithuania, seeking closer ties with the West, applied for NATO membership in 1994. After a transition from a planned economy to a free market one, Lithuania became a full member of NATO and the European Union in the spring of 2004 and a member of the Schengen Agreement on 21 December 2007.

In 2013, Lithuania will assume the role of the Presidency of the European Union.

Grand Duchy of Lithuania in 13-15th centuries –
from the Baltic Sea to the Black Sea
Geography



The Geographic Centre of Europe is located in Lithuania (26 km from Vilnius)

Lithuania covers an area of 65,200 km2. Our country is roughly the same size as the American state of West Virginia, and larger, in terms of total area, than the Netherlands, Belgium, Denmark and Switzerland. Lithuania's terrain is an alternation of moderate lowlands and highlands; its maximum elevation is Aukštojas Hill at 294 metres (965 ft). The terrain features numerous lakes wetlands; a mixed forest zone covers nearly 33% of the country.
After a re-estimation of the boundaries of the continent of Europe in 1989, Jean-George Affholder, a scientist at the Institut Géographique National (French National Geographic Institute) determined that the Geographic Centre of Europe is located at 54°54′N 25°19′E. This point is located in Lithuania, specifically 26 kilometres (16 mi) north of its capital city, Vilnius.
Climate



Sand dunes of Curonian Spit (UNESCO World Heritage Site)

Lithuania's climate, which ranges between maritime and continental, is relatively mild. Average temperatures on the coast are −2.5 °C in January and 16 °C (61 °F) in July. During the summer, 20 °C (68 °F) is common during the day while 14 °C (57 °F) is common at night. Winters can be very cold. −20 °C (−4 °F) occurs almost every winter. Snow occurs every year and it can snow during the period October to April.
Politics



Flag and Coat of Arms
Republic of Lithuania is a parliamentary Republic with some semi-presidential features inside of parliamentary republic type. The Lithuanian head of state is the President, elected directly for a five-year term. The post of president is largely ceremonial; main policy functions however include foreign affairs and national security policy. The President, with the approval of the parliamentary body, the Seimas, also appoints the Prime Minister and, on the latter's nomination, the rest of the cabinet, as well as a number of other top civil servants and the judges for all courts. The current Lithuanian head of state, Dalia Grybauskaitė was elected on May 17, 2009 becoming the first female President in the country's history.
The unicameral Lithuanian parliament, the Seimas, has 141 members who are elected to four-year terms.
Lithuania has a three-tier administrative division: the country is divided into 10 counties that are further subdivided into 60 municipalities which consist of over 500 elderships. Municipalities are the most important administrative unit. Each municipality has its own elected government.
Economics
In 2003, before joining the European Union, Lithuania had the highest economic growth rate amongst all candidate and member countries, reaching 8.8% in the third quarter and as a result was often termed as a Baltic Tiger.

The country boasts a well-developed modern infrastructure of railways, airports and four-lane highways.

International companies operating in Lithuania are: Barclays, Wetern Union, PricewaterhouseCoopers, Ernst & Young, Societe Generale, UniCredit, Thermo Fisher Scientific, Phillip Morris, Kraft Foods, Mars, Marks & Spencer, United Colors of Benetton, Deichmann, Statoil, Neste Oil, Lukoil, Tele2, Hesburger and Modern Times Group. TeliaSonera, ICA and Carslberg respectively own local telecommunications company Omnitel, retailer Rimi and beer breweries (Švyturys, Kalnapilis and Utenos Alus).

Lithuanian banking sector is dominated by the Scandinavian banks: Swedbank, SEB, Nordea, Danske Bank, DNB ASA.

Most of the trade Lithuania conducts is within the European Union.

The litas, the national currency, has been pegged to the euro since 2 February 2002 at the rate of EUR 1.00 = LTL 3.4528, and Lithuania is expecting to switch to the euro on 1 January 2014.

According to the Speedtest.net website, as of 30 October 2011 Lithuania ranks first in the world by the internet upload speed and download speed.

The Port of Klaipėda is the only port in Lithuania.

Vilnius International Airport is the largest airport. It served 2 million passengers in 2008. Other airports include: Kaunas International Airport and Palanga International Airport.
Demographics
Lithuania has the most homogenous population in the Baltic States. The population of Lithuania stands at 3,244,600, 83.9% of whom are ethnic Lithuanians who speak Lithuanian, which is the official language of the country. Several sizable minorities exist, such as Poles (6.6%), Russians (5.4%), and Belarusians (1.3%).
Majority of Lithuanians belong to the Roman Catholic Church.



There are 65 churches in Vilnius
Education and Sports

The World Bank designates the literacy rate of Lithuanian persons aged 15 years and older as 100%. Lithuania has twice as many people with higher education than the EU-15 average and the proportion is the highest in the Baltic. Also, 90% of Lithuanians speak at least one foreign language and half of the population speaks two foreign languages, mostly Russian and English.
Basketball is one of the most popular sports in the country. It is often said to be a second religion. The Lithuania national basketball team has had significant success in international basketball events. Having won a total of 9 medals in the EuroBasket, the World Championshipsand the Olympic Games, it is ranked 5th worldwide in FIBA Rankings. Lithuania has produced a number of NBA players: Arvydas Sabonis, Žydrūnas Ilgauskas, Šarūnas Marčiulionis, Darius Songaila, Šarūnas Jasikevičius, Linas Kleiza and others. The current 19-year-old Lithuanian star Jonas Valančiūnas was picked 5th by Toronto Raptors in the 2011 NBA Draft.
In 2011, Lithuania hosted the men's European Basketball Championship EuroBasket 2011. The final took place in the newly built Žalgiris Arena which is the largest arena in Baltics. In 2011, the Lithuanian U19 men's basketball team won the FIBA Under-19 World Championship. In 2012, Lithuania will host FIBA Under-17 World Championship in Kaunas.
Football, athletics and cycling are also popular in Lithuania. The popularity of ice hockey, rugby and tennis is also growing.



Basketball is the second religion
Health Profile

As of 2010 Lithuanian life expectancy at birth was 68 years for males and 78.8 for females, the infant mortality rate was 4.3 per 1,000 births. The annual population growth rate increased by 0.3% in 2007. At 30.4 people per 100,000, Lithuania has seen a dramatic rise in suicides in the post-Soviet years, and now records the highest suicide rate in the world. In 1995, it had the highest suicide rate of 45.6 per 100,000 of population in recorded world history.

Health Care Reform

In their programme the fifteenth Government of the Republic of Lithuania is committed to submit a strategic plan for further development of the health care system in 2008–2012:
Optimising the network of personal health care establishments and restructuring services

Reducing prices of medicines and improving their availability for the population

Strengthening the family doctor institution and the whole of primary health care

Improving the health funding system

Reducing corruption in the health care system

Improving the business environment, minimising unnecessary bureaucracy

Developing an e-health system
Public Health Care Management

Ministry of Health have two types of institutions to ensure and strengthen public health – ones that deal with public administration and public health safety, that are State Public Health Service with 10 regional Public Health Centres, Radiation Protection Centre, Health Emergency Situations centre, and others, dealing with specialized public health matters and services, that are Centre for Health Education and Disease Prevention, Centre for Communicable Diseases and AIDS, Institute of Hygiene, State Mental Health Centre, National Public Health Laboratory. Ministry of Health is also responsible for alcohol, tobacco and drugs control coordination policy and supervision of Drugs, Tobacco and Alcohol Control Governmental Department. At local level, municipalities are responsible for setting up and maintaining Health Boards and Public Health Bureaus. In Lithuania, major public health challenges have been identified and tackled by policies, such as the implementation of measures to tackle the high rates of alcohol consumption and traffic accidents. Among many measures taken, policies included a ban of daytime advertising, an excise tax on alcohol and a ban of alcohol sales at night time. These policy measures demonstrated clear results and yielded evidence to the ability to formulate and implement public health measures effectively


Priorities of public health care

Concerns about people's health and well-being is the aim of social and economic development of each state. Following international experience Lithuania gradually and purposefully implements the public health policy.
Its goal is to ensure an effective functioning of the system of disease prevention and control, health education and the development of information systems, to encourage professional advancement of public health care specialists and to implement the reform of the public health system in compliance with the requirements of EU legal acts.
One of the main priorities in public health sector is improvement of mental health. In order to ensure psychosocial well-being of people and more versatile assistance to persons with problems of mental health the Strategy on Mental Health of Lithuania is being developed. A particular attention will be given for children's mental health. Lithuania will implement the project "Mental Health of Children and Teens after the EU Enlargement: Development of Effective Policy and Practices" funded from EU structural funds.

In order to strengthen health of children and youth much attention will be given to the health care reform in schools, activities of schools strengthening health will be developed. The goal of health care in schools is to help school children to preserve and strengthen their health, to implement measures related to prevention of diseases and traumas.

Traumata and accidents, the group taking the third place among all death reasons in Lithuania prevention, is chosen as one of priority areas. Seeking to reduce mortality and disability of people that have sustained severe traumata, the complex help system for people who sustained severe injuries, using EU structural funds (2007-2013) allots will be established while investing to health care institutions that function as Centres of Traumata and infrastructure of emergency medical aid.

After the Lithuanian Parliament had ratifed the World Health Organization's Framework Convention on Tobacco Control, the National Programme for Tobacco Control was revised. The results of the poll conducted in the country in 2005 showed that 74.7% of the Lithuanian population are against smoking in restaurants, cafes, bars and other public premises. Considering the opinion of country's population, the Ministry of Health proposes to amend the provisions of the Law on Tobacco Control and according to it from 2007 January the first to prohibit smoking in public catering premises.

The goal of implementation of the measures of the National Drug Control and Drug Addiction Prevention Programme is to reduce the use of narcotic and psychoac tive substances. Measures of medical, psychological and social rehabilitation services that have been started to implement for children using psychoactive substances would enable to develop the provision of efficient and research-based services not only to children but also for their families.

Due to the growing HIV/AIDS epidemic in the world, it is very important to protect the society from spread of this infection. Currently the National HIV/AIDS Prevention and Control Programme is implemented which aim is to remain a country of low HIV/AIDS spread.

People's health and quality of life is related to a clean and sustainable environment determined by physical, social, psychological and even aesthetical factors. In 2003, the Government of the Republic of Lithuania approved the National Environmental Health Action Programme which aim is to ensure that an environment would not pose a threat to people's health and in such a way to improve health of the Lithuanian population.

Following the provisions of the EURATOM Treaty and the guidelines of the International Atomic Energy Agency, the Law on Management of Radioactive Waste, the Law on Nuclear Energy and other laws that regulate requirements for radiation and nuclear protection have been adopted. In order to protect people from negative effects of ionizing radiation the state supervises and controls activities with sources of ionizing radiation and monitors individual exposure, exposure of a work place, foodstuffs, construction materials and natural exposure.

Reduction of communicable diseases remains one of the priority fields of the public health sector. Implementing the National Immunoprophylaxis Programme, during the last decade morbidity by whooping-cough, measles, epidemic parotitis and rubella significantly decreased and cases of congenital rubella syndrome or newborn tetanus were not recorded, morbidity by hepatitis B is decreasing. In addition, Lithuania has started to implement the computerized system of notification about communicable diseases which will be connected to the EU Network of Communicable Diseases.

Nutrition of the country's population is another field of concern. In order to improve knowledge of a society on healthy nutrition and to form skills of healthy nutrition, the National Food and Nutrition Strategy is implemented which main goal is to strengthen health of the population and to reduce diseases spreading due to improper nutrition.

Due to the aim to protect life and health of the Lithuanian population from the negative impact of noise the 25th of June, 2002 European Parliament and Council Directive 2002/49/ EB, devoted to evaluation and management environmental noise, has been implemented, and the Ministry of Health was initiating the preparation of the Noise Management and Prevention, which in 2004 was approved by the Seimas of Lithuania. The State Noise Strategic Cartography programme, which provides possibilities to evaluate the main impact of noise that comes from transport and industrial objects on population (especially on schools and hospitals areas) of the biggest Lithuanian towns, was prepared and approved. The State Noise Prevention Programme, which aimed on diminishing of negative noise impact (according noise related diseases) is being prepared.

One of the most important common tasks of individual and public health care is implementation of prevention programmes of chronic diseases. Also, the community health promotion and the healthy lifestyle education programmes are being implemented.
Lithuanian Union of Hygienists and Epidemiologists

Foundation of the organization was in the year 1885, when a sanitary section was established in Vilnius Medical Society and mostly focused its work to disinfection, sterilization and vaccination while later on the main activity filed was promoting healthy lifestyle.

The main organizational goals are, namely: hygiene, epidemiology, public health care science popularization, analysis of practical activities, publications, training, raising qualification, re-qualification, licensing, physicians - public health specialists and epidemiologists of Lithuania.

We are often communicating with media, participating in discussions on draft legal acts and laws, participating in international activities.

One of objectives of our organization - seek higher authority and recognition of the Lithuanian Union of Hygienists and Epidemiologists (LUHE) and public health specialists among the public, following the principle "Strong public health institutions - healthy and unified Lithuanian society". Seeking higher and more positive influence of LUHE members on public health related decision – making of public institutions, our organization is looking for common understanding and mutually beneficiary contacts with national and international partners.

LUHE joints together over 300 members. These are practitioners and researches from State Public Health Service and Regional Public Health Centres, Centre for Health Promotion and Disease Prevention, Centre of Communicable Disease Prevention and Control, Radiation Protection Centre, National Public Health Care Laboratory, Institute of Hygiene, Ministry of Health, State Food and Veterinary Service, State Environmental Protection Inspection, Faculty of Medicine of Vilnius University, Public Health Faculty of Kaunas University of Medicine and others.

LUHE is member of the International Federation of Environmental Health since 2000, member of Lithuanian Public Health Association and partner of Lithuanian National Tobacco and Alcohol Control Coalition.

LUHE activities are organized by national board and managed by chairperson, who is also a representative of the Union (currently chairperson of the organization is Viktorija Montviliene, elected recently for the 2010-2013 term, deputy chairman – Professor Rimantas Stukas). The organization has five regional parts in the country in Vilnius, Kaunas, Klaipeda, Siauliai and Panevezys with their local boards and chairpersons – this helps to coordinate all actions nationwide and is useful for dissemination of information.

The organization is mostly known for its contributions improving knowledge and skills of public health practitioners. Conferences on such topics as climate change, extreme situations for health care, urbanization in relevance with World Health days were recently organized. Numerous seminars on children and youth health, health promotion, flu and other communicable diseases, were organized by Vilnius regional board. A special report on Lithuanian professor ,Vladas Kviklys, a teacher of many members of LUHE, jubilee for 100 years was presented. In 2011 LUHE together with Faculty of Medicine of Vilnius.

University, Ministry of Health of the Republic of Lithuania and Vilnius Public Health Centre have organised a scientific conference "Let's Unite for Public Health". This conference was a great success that gathered many politics and professionals to discuss relevant public health issues, such as antibacterial such as antibacterial resistance, policy development, public administration.



Conference "Let's Unite for Public Health"gathered many politicians and professionals to discuss relevant public health issues (in the first row: Mr. A. Matulas, Chairman of the Committee on Health Affairs of the Seimas, Mrs. I. Čigriejienė, member of the Committee on Health Affairs of the Seimas, Mrs. I. Degutienė, Speaker of the Seimas and Mr. R. Alekna, Vilnius city mayor.)
For the final words: We want to invite You ALL to the XII World Congress on Environmental Health "New Technologies, Healthy Human Being and Environment" in Vilnius 22-27th May 2012. Waiting to see You here!





Lithuanian Union of Hygienists and Epidemiologists (LUHE)


01 March 2012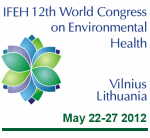 IFEH World Congress 2012

22-27 May 2012, LUHE,
Lithuanian Union of Hygienists & Epidemiologists hosted the 12th IFEH World Congress on Environmental Health.