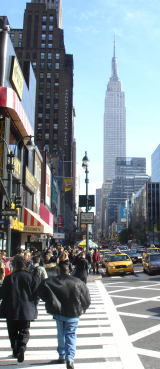 New York, USA
Look up larger photo

List of all "Spotlights"

SPOTLIGHT ON ENVIRONMENTAL HEALTH IN
THE UNITED STATES OF AMERICA.
Hello from the United States of America and the National Environmental Health Association (NEHA) located in Denver, Colorado! Today NEHA stands as a strong professional society with over 4,500 members in the public and private sectors as well as in universities and uniformed services. Clearly NEHA's mission, "to advance the environmental health and protection professional for the purpose of providing a healthful environment for all" is as relevant today as it was when the organization was founded in 1937. Advancement has been defined by NEHA in terms of both education and motivation. The basis for the association's activities is the belief that the professional who is educated and motivated is the professional who will make the greatest contribution to the healthful environmental goals, which we all seek.
It is a secret both in nature and state, that it is safer to change many things than one.

– Sir Francis Bacon
NEHA's responsibility to the environmental health profession has led the organization to analyze the opportunities awaiting the industry, and to take an innovative approach to advance the profession. To us this means change, and below are some of the ways we are looking to do just that.
1.

Creating a dialogue within the profession about "who we are" and "who we want to be." The definition of environmental health is changing. From our Annual Conference to our monthly Journal of Environmental Health to our blog, NEHA is soliciting input from the environmental health profession to answer these two questions. With this input, NEHA looks to develop marketing tools to help promote the profession to the public, draw the younger generation into the environmental health workforce, and to increase visibility of the profession among policy makers.


2.

Reinventing the format of our Annual Educational Conference to incorporate unusual forms of education, which are geared toward interaction, personalization for the attendee, and group participation. These sessions are intended to involve attendees at a higher level of participation and provide more practical knowledge of environmental health topics


3.

Transitioning to a more youthful NEHA by positioning the organization as "exciting, innovative, cutting-edge, and fun!" By no means are we looking to abandon our members that fall outside the "younger generation" category, but instead, NEHA is looking at ways to become a much more multigenerational institution:


-

Changes to the educational format of our annual conference, as mentioned above.


-

Implementing social networking opportunities such as blogs and forums to help environmental health professionals establish and participate in communities and connect with their peers all online.


-

Offering free online education through NEHA e-Learning. Now our members have the opportunity to keep on top of their professional practice in the convenience of their homes and/or offices!

NEHA also has obligations outside of the environmental health profession to be a good steward to the community and focus on advancing the growth of the business and its staff. We have turned a focus inward to our Denver office around how our activities affect the environment. We are making our commitment to being "green" and taking steps to ensure we are doing our part to protect the earth for future generations. As with anything, it is a work in progress, and we're happily sharing our efforts with others outside the office via the establishment of a Sustainability committee. Also, NEHA awarded its first-ever Excellence in Sustainability Award during the 2008 Annual Educational Conference. To ensure the viability of our organization long into the future, NEHA has also adopted an opportunistic business model that makes use of Strategic Thinking. Strategic Thinking is a mindset that keeps our organization nimble to pursue opportunities that may present themselves. These are opportunities we may not have planned on, but our organizational structure is such that it provides the flexibility to do what we need to do for the good of the association.
Become a part of NEHA If you like what you've heard in this column and want to be a part of change for the advancement of the environmental health profession, become part of the NEHA family. We welcome people from all over the world to become a member, attend our annual conference, and/or obtain one of our many credentials. For more information on all of these opportunities, please visit our Web site at www.neha.org.

National Environmental Health Association